Ashley Regional Medical Center Now Offering Innovative Technology in Partial Knee, Total Knee and Total Hip Replacements with Robotic-Assisted Surgery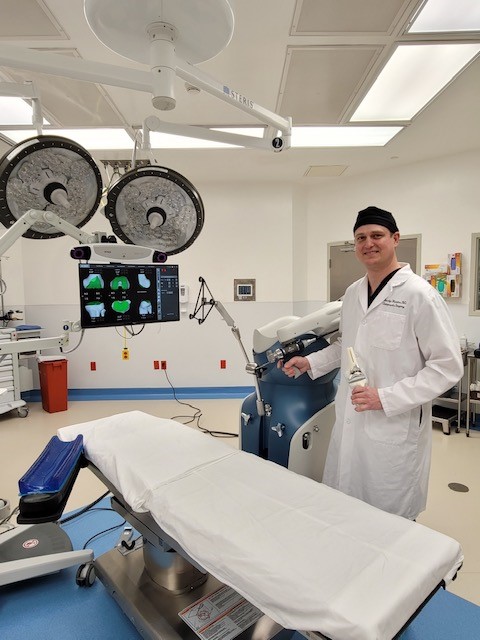 VERNAL, UT – March 8, 2022 – Ashley Regional Medical Center is now offering Mako SmartRobotics™, also known as robotic-assisted surgery. This advancement in joint replacement surgery transforms the way total knee, partial knee and total hip replacements are performed.
Dr. Timothy Hawkes, a board-certified orthopedic surgeon and sports medicine physician, joined Ashley Regional Medical Center in October 2021 and is certified in the use of this new robotic technology. His experience with robotic-assisted knee and hip surgery is a benefit to patients at Ashley Regional Medical Center.
"With robotic-assisted surgery I know more about my patients than ever before, and I'm able to cut less. For some patients, this can mean less soft tissue damage; for others, greater bone preservation," said Dr. Hawkes. "The 3D CT allows me to create a personalized plan based on each patient's unique anatomy all before entering the operating room. During surgery, I can validate that plan and make any necessary adjustments while guiding the robotic arm to execute that plan. It's exciting to be able to offer this transformative technology across the joint replacement service line to perform total knee, total hip and partial knee replacements."
In total knee surgery clinical studies, the robotic technology demonstrated the potential for patients to experience less pain, less need for opiate analgesics, less need for inpatient physical therapy, reduction in length of hospital stay, improved knee flexion and soft tissue protection in comparison to manual techniques. "In my experience using robotic technology, I have seen patients have less down time and less pain," stated Dr. Hawkes. "I look forward to helping patients feel better, move more freely and get back to enjoying the activities that they love."
"We are proud to be able to offer this highly advanced robotic technology in our area," said Wes Taylor, CEO of Ashley Regional Medical Center. "This addition to our orthopedic service line further demonstrates our commitment to provide the community with outstanding healthcare."
ABOUT ASHLEY REGIONAL MEDICAL CENTER
Through its 39-bed, Joint Commission-accredited acute care facility and physician practices, Ashley Regional Medical Center provides inpatient and outpatient services to the populations of Uintah, Duchesne and Daggett counties in Utah and Rio Blanco County in Colorado. It is a designated Level IV trauma center, an Accredited Chest Pain Center and has been designated as a Stroke Receiving Facility by the Utah State Department of Health. The healthcare workers provide safe, high-quality patient care across labor and delivery, surgery, imaging, outpatient care, the 24/7/365 emergency room and many other specialties. Ashley Regional has been recognized for excellence in quality indicators and measures, including being named a Top 100 Community & Rural hospital for five consecutive years by Chartis Center for Rural Health, a 100 Top Hospital by Watson Health and holds a 5-star CMS rating.
Read All Posts