Coronavirus (COVID-19) Preparedness Information
Our hospital is committed to providing the highest quality care and ensuring the safety of our patients, employees, providers, volunteers and visitors. We are continuing to monitor the evolving situation with the coronavirus (COVID-19) and are taking the necessary steps to ensure we are fully prepared to care for patients, in accordance with guidance from the Centers for Disease Control and Prevention (CDC) and in partnership with our local and state health departments.
Below are a number of resources to help educate you and your family on COVID-19. For more information on the virus, please contact the health department.
COVID-19 Online Risk Assessment
To help support the health of our community, we are providing access to an online COVID-19 risk assessment developed by the Centers for Disease Control and Prevention (CDC). This tool does NOT provide a diagnosis, and it should NOT be used as a substitute for an assessment made by a healthcare provider.
Quick Links:
Centers for Disease Control and Prevention (www.cdc.gov)
Utah Department of Health
TriCounty Health Department
Ashley Regional Medical Center COVID-19 line: 435.781.6807 (If you have recently traveled from an area with widespread or ongoing community spread of COVID-19 or if you develop a cough, fever or other symptoms consistent with a respiratory illness.)
Visitor Restrictions, Limited Entry Points, and Other Precautionary Measures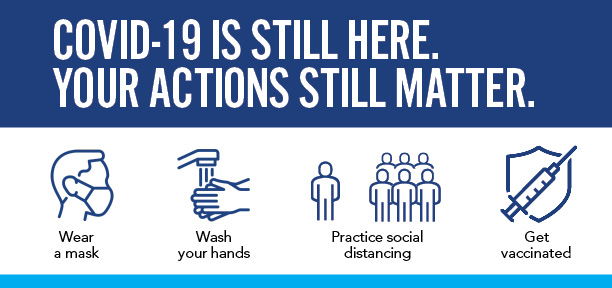 September 13, 2021
ASHLEY REGIONAL MEDICAL CENTER IMPLEMENTS ONE WELL VISITOR POLICY
Due to an increase in community transmission of COVID-19, Ashley Regional Medical Center restricts visitors, effective immediately
VERNAL, UT (9/13/21) – Due to the rising number of COVID-19 cases and the increased rate of transmission in the area, Ashley Regional Medical Center will be enforcing a one well visitor policy effective today (9/13/21) for all inpatient units and outpatient areas.
"As always, the safety of our patients, providers and team members continues to be our top priority as we continue to navigate this pandemic, and we will not waver in this commitment," said Wes Taylor, CEO of Ashley Regional Medical Center. "We continue to take all of the necessary precautions in preventing the spread of COVID-19 in our facilities, and we want to reassure our communities that it is still safe to come to our hospital and clinics should you or your family need care."
An exception for the one well visitor policy for end-of-life care will be made for end-of-life and medical necessity as determined by the care team.
Ashley Regional Medical Center continues to take all the necessary precautions to keep our patients and staff safe by isolating our COVID-19 patients, enforcing a universal masking policy, implementing the most effective cleaning and disinfecting protocols, and enhancing safety with new personal protective equipment protocols. These protective measures for managing infectious diseases ensure that our facilities are always safe for you and your loved ones when you need care.
"We understand these visitor restrictions may be difficult for many in our community, and we apologize for any inconvenience they may cause. However, we feel these protective measures are necessary for the health and safety of our patients and team. Our team, along with our community partners, are monitoring COVID-19 closely, and we will reassess and adjust the visitor policy as the number of positive cases declines locally and when we feel it's safe and appropriate to do so," said Taylor.
April 8, 2021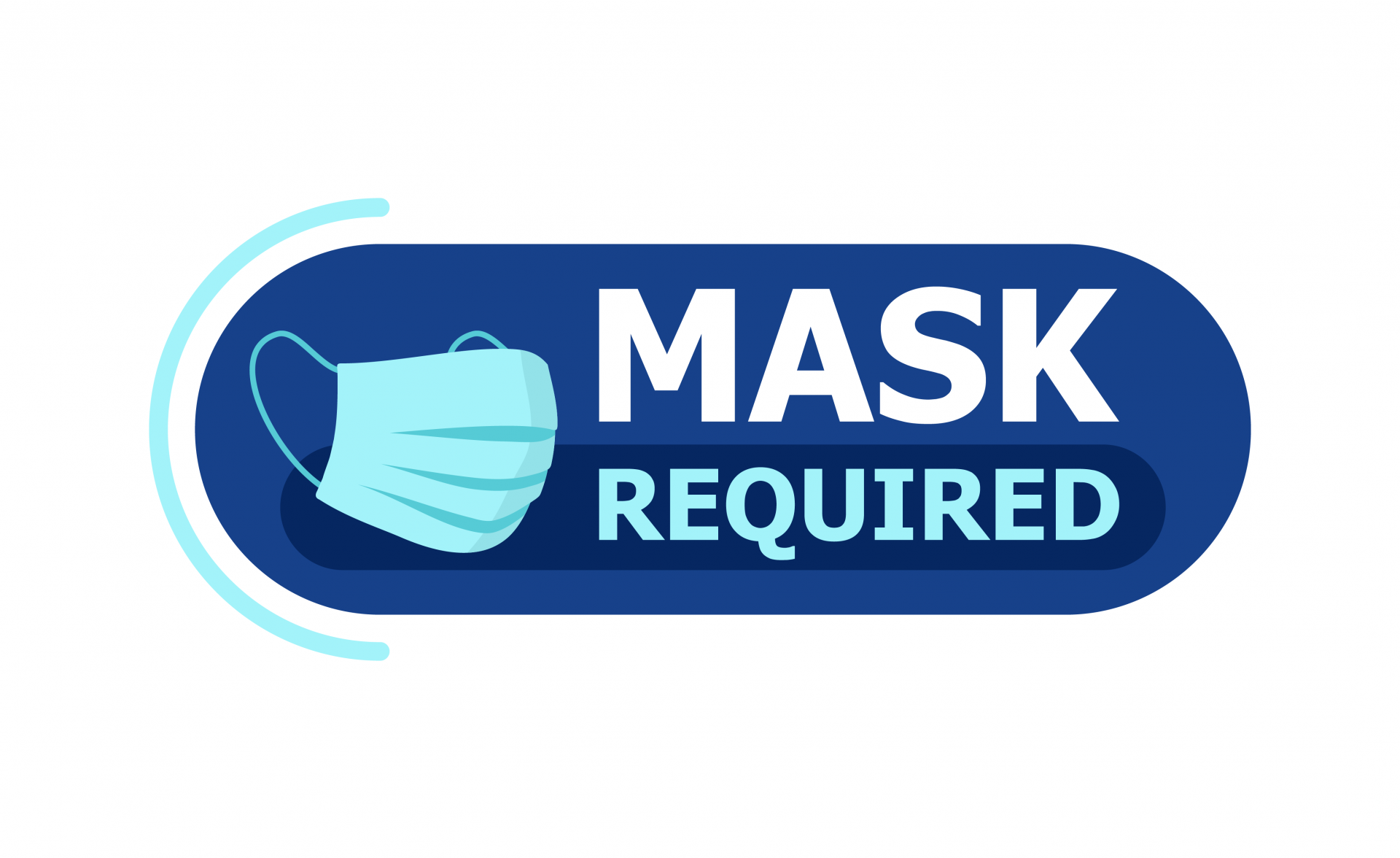 At Ashley Regional Medical Center, protecting the health and safety of our team members and the patients we serve is our number one priority. We are encouraged by the progress we are making across the country and here in our state toward reducing the prevalence of COVID-19. However, we are not out of the woods yet. Now is simply not the time to let our guard down.
That's why even though Utah has lifted the mask mandate, Ashley Regional is still requiring masks to be worn inside our facility by patients, providers, employees and visitors for the foreseeable future. We believe this is in the best interests of our team and the valued patients we serve. We will continue to evaluate our policies moving forward based on the evolving situation in our community and will communicate any updates as we have them.
We must all remember to stay vigilant in wearing our masks, washing our hands and practicing social distancing. Importantly, as soon as you have the opportunity, we encourage everyone to please consider getting the COVID-19 vaccine. Let's encourage each other and our friends and neighbors to join us in becoming a #vaccinehero.
March 26, 2021
Although we are not out of the woods yet, the change in Uintah County to a moderate transmission level yesterday tells us that, as of now, things are trending in a positive direction. We continually review our policies, and with this lowered transmission level have decided to adjust our visitor policy.
Effective Friday, March 26 we will change our visitor policy.
Up to two (2) well visitors per patient per day.
A zero visitor policy remains for COVID presumed positive and COVID positive patients.
Patients, visitors and our healthcare workers are still required to wear face masks within our facilities. We also encourage social distancing and handwashing (or hand sanitizer) throughout your visit.
We appreciate the community support as we continue to navigate our new normal.
January 19, 2021
Press Release: Ashley Regional Medical Center is proud to offer bamlanivimab therapy, a new monoclonal antibody treatment for eligible positive COVID-19 patients.
January 19, 2021
Ashley Regional Medical Center has received a number of questions from our patients about when the COVID-19 vaccine may be available to them. While we are thrilled with the outpouring of interest from our community members in getting vaccinated, it is important to keep in mind that we are following a very specific process that will take time to roll out more broadly.
At this time, we are focusing on administering COVID-19 vaccines in accordance with prioritization guidance from the Centers for Disease Control and Prevention (CDC), the federal government and our state – this includes continuing to vaccinate our own healthcare workers and residents at the care center. We are carefully following the protocols in place and will continue to work closely with TriCounty Health, which is directing vaccine distribution in our community. If you have specific questions on when you may be eligible for the vaccine, please refer to the health department website at TriCountyHealth.com.
One key thing you can be doing now is ensure we have the most updated contact information for you on file. We encourage you to message us through the patient portal to confirm your communication preferences.
We are eager to vaccinate as many individuals as possible and are doing everything we can to ensure a smooth rollout at our facilities and also in our community when the time comes. Once the vaccine is more widely available, we will work with our local and state partners to educate our community on how and where to get vaccinated. Check our website and social media platforms often for immunization plan updates.
Thank you for your patience and understanding – and for continuing to do your part to help slow the spread of COVID-19 by wearing masks, maintaining social distancing and practicing proper hand hygiene.
July 16, 2020
Universal Masking
Ashley Regional Medical Center is taking every precaution to keep our patients and staff safe, and prevent the spread of COVID-19 in our facilities. For this reason, we are following the CDC recommendation and local and state guidance that anyone who enters our facility must wear a face mask at all times.
Visitors are encouraged to bring their own mask from home to help conserve hospital supplies for patients and staff.
Why wear a mask? Recent studies show that universal masking, in addition to practicing social distancing and proper hand hygiene, can help prevent the spread of infectious diseases like COVID-19, especially in individuals who may not know they are ill. And until there is a vaccine, these measures are our best line of defense in protecting not only you, but also our healthcare workers and community members.
Please be smart and do your part. Wear a mask! We all have a responsibility to protect one another against the spread of COVID-19 and make our communities healthier.
For more information from the CDC on face coverings and how to make your own, click here.
To learn more about the many ways we are working to ensure your safety while you are in our care, click here.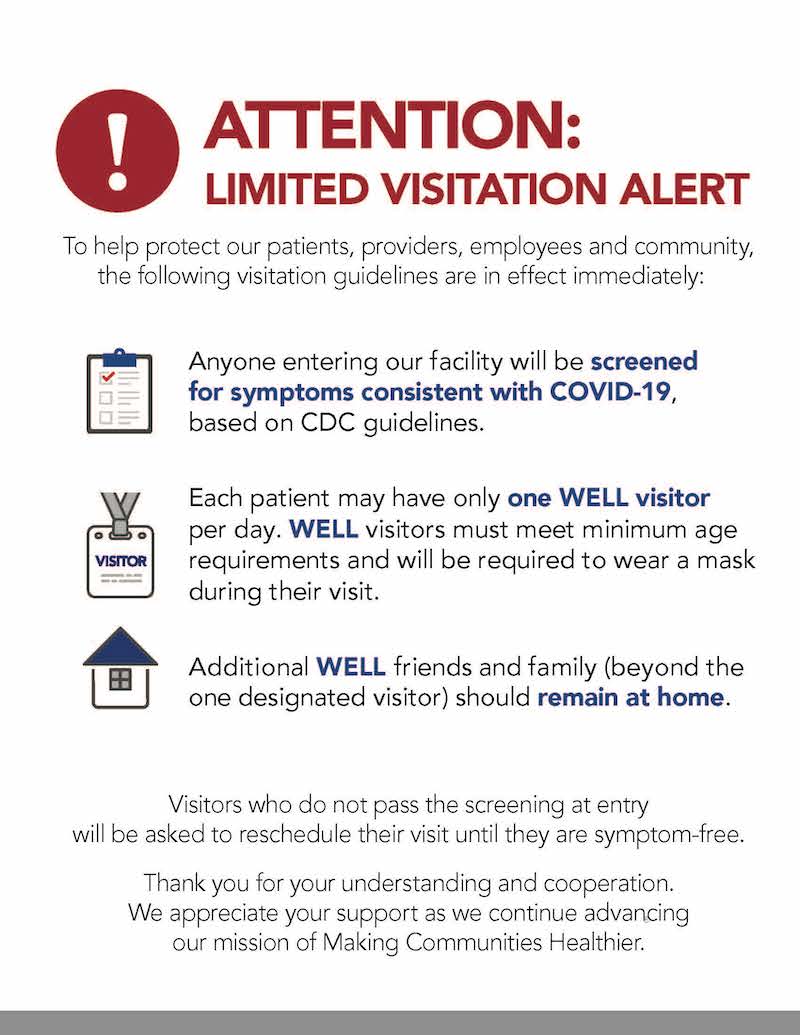 .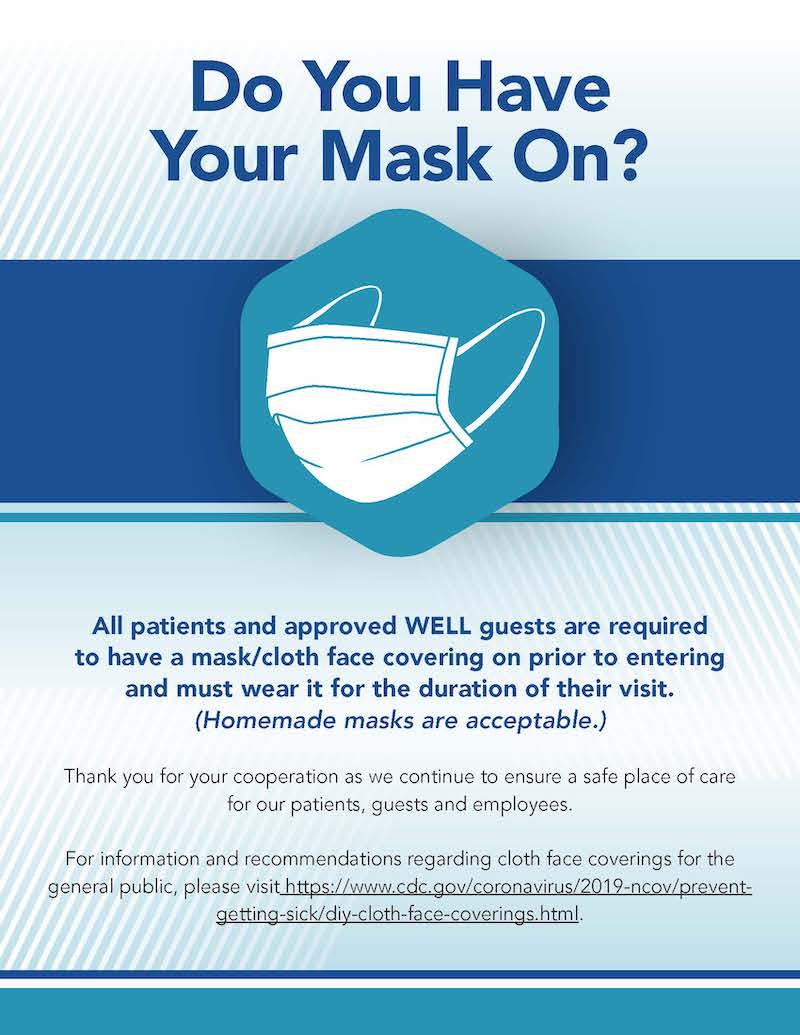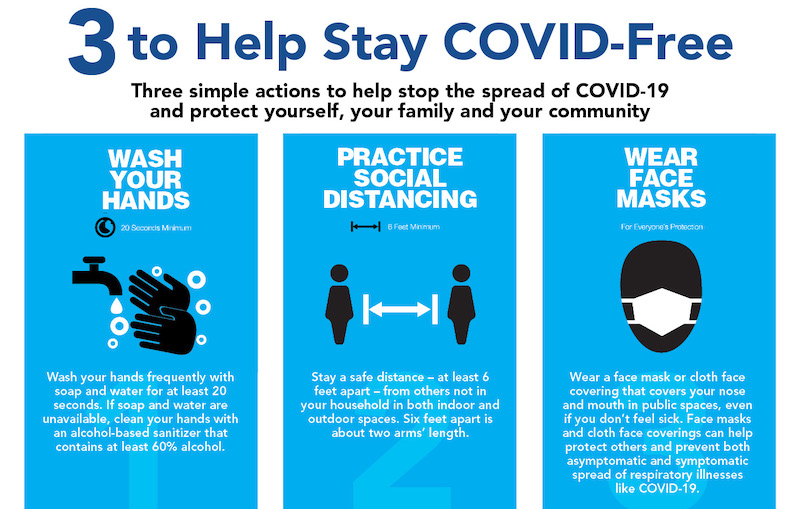 What Should I Do If I Have Respiratory Illness Symptoms?