Dr. Shawn Cooper Joins Ashley Regional Medical Center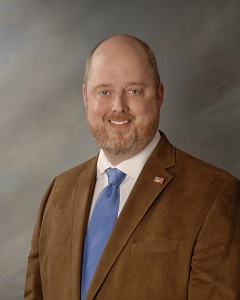 Vernal, Utah (August 8, 2022) – Ashley Regional Medical Center (ARMC) today announced that Shawn Cooper, D.O. has joined its staff and will be offering pediatric services to patients throughout the Basin. Dr. Cooper brings more than a decade of clinical experience to Ashley Regional Medical Center.
"Dr. Cooper has years of experience in treating a range of pediatric complex care and general pediatrics care, and he is an excellent addition to our hospital team. He brings a wealth of knowledge and experience to the team, which will benefit families throughout the community, including the neonatal infants at ARMC," said Wes Taylor, CEO of Ashley Regional. "Dr. Cooper's expertise will be important as Ashley Regional strives to meet our region's evolving healthcare needs and make our community healthier."
Dr. Cooper joins Ashley Regional from Penn State Hershey Children's Hospital, where he was pediatrician with their pediatric complex care team and assistant professor of pediatrics at Penn State School of Medicine. Before his work at Penn State, he was a staff pediatrician and site director at WellSpan Pediatric Medicine in York, Pennsylvania and worked as a pediatrician at DinosaurLand Pediatrics in Vernal.
Dr. Cooper graduated from A.T. Still University, Kirksville College of Osteopathic Medicine in Kirksville, Missouri. He completed his internship and residency at Penn State Children's Hospital and Penn State Milton S. Hershey Medical Center in Hershey, Pennsylvania. Dr. Cooper is a member of the American Academy of Pediatrics and board certified through The American Board of Pediatrics.
He and his family are excited to be back in Vernal. Dr. Cooper is looking forward to serving this community once again.
Dr. Cooper is fluent in English and Spanish and begins seeing patients at his office at Ashley Regional Pediatrics on August 8. To schedule an appointment, please call 435.781.1200.
About Ashley Regional Medical Center
Through its 39-bed, Joint Commission-accredited acute care facility and physician practices, Ashley Regional Medical Center provides inpatient and outpatient services to the populations of Uintah, Duchesne and Daggett counties in Utah and Rio Blanco County in Colorado. It is a designated Level IV trauma center, an Accredited Chest Pain Center and has been designated as a Stroke Receiving Facility by the Utah State Department of Health. The healthcare workers provide safe, high-quality patient care across labor and delivery, surgery, imaging, outpatient care, the 24/7/365 emergency room and many other specialties. Ashley Regional has been recognized for excellence in quality indicators and measures, including being named a Top 100 Community & Rural hospital for five consecutive years by Chartis Center for Rural Health, a 100 Top Hospital by Watson Health and holds a 5-star CMS rating.
###
Read All Posts