Ashley Regional Medical Center Names 2023 Mercy Award Winner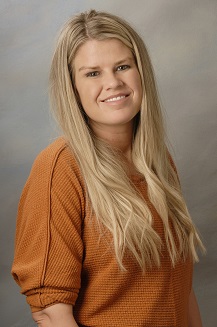 VERNAL, UT (May 9, 2023) – Ashley Regional Medical Center recently announced that Director of Quality Brittany (Brit) Kidd, MSN, RN has been recognized as the facility's 2023 Mercy Award winner. The Mercy Award recognizes one employee from each of Lifepoint Health's facilities who profoundly touches the lives of others and best represents the spirit and values on which the company was founded.
The Mercy Award is an annual recognition program that honors the life and contributions of Scott Mercy, Lifepoint's founding chairman and chief executive officer. The award is considered the highest honor a Lifepoint employee can receive.
"At Ashley Regional Medical Center, we share Lifepoint's commitment to making communities healthier, and we recognize this is supported by the good work and service of our employees on and off the job," said Wes Taylor, CEO of Ashley Regional. "We are extremely proud to recognize Brittany Kidd for her efforts on behalf of our patients and our community. She goes above and beyond each and every day to ensure that every person she encounters receives the highest level of care and compassion."
Brittany is an incredibly kind and generous person and co-worker. Her warm smile and upbeat personality light up a room. She puts her heart and soul into her job -- she'll often be the first to search for resolutions to issues, advocate for all nurses and staff and find fun ways to reward her co-workers.
Brit consistently lends a hand in departments across the facility. She will help floor staff, cover house supervisor shifts, and assist in OR, Emergency and other areas. Brit is passionate about improving patient experiences and quality throughout the hospital.
Outside of the hospital, Brit spends her time giving to the community. She can be seen organizing or working at fundraisers, teaching elementary school students CPR, and contributing her nursing skills at local softball games when unexpected trauma strikes. Her heart is invested in providing quality care and it shows through in many ways inside and outside Ashley Regional.
Each facility winner, including Brittany, will be considered for Lifepoint's 2023 companywide Mercy Award. The company-wide winner will be announced this summer.
About Ashley Regional Medical Center
Through its 39-bed, Joint Commission-accredited acute care facility and physician practices, Ashley Regional Medical Center provides inpatient and outpatient services to the populations of Uintah, Duchesne and Daggett counties in Utah and Rio Blanco County in Colorado. It is a designated Level IV trauma center, an Accredited Chest Pain Center and has been designated as a Stroke Receiving Facility by the Utah State Department of Health. The healthcare workers provide safe, high-quality patient care across labor and delivery, surgery, imaging, outpatient care, the 24/7/365 emergency room and many other specialties. Ashley Regional has been recognized for excellence in quality indicators and measures, including being named a Top 100 Community & Rural hospital for seven consecutive years by Chartis Center for Rural Health, a 100 Top Hospital by Watson Health and holds a 5-star CMS rating.
Read All Posts